Visual project management software.
Powerful pictures of your project.
Schedules, tasks and resources as you've never seen them before.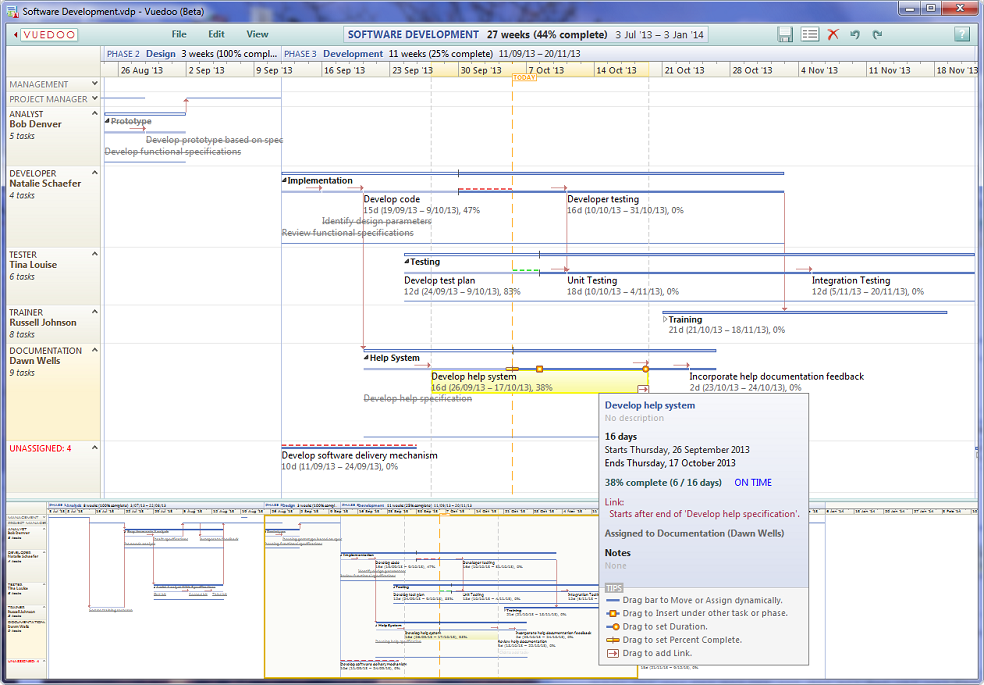 | | | | |
| --- | --- | --- | --- |
| Vuedoo humanizes project management software with seamless connections between your schedule, your tasks and your people. Which puts you in control. See more | Picture yourself being able to effortlessly manipulate tasks, links and assignments. All with a beautiful tool that's a joy to use. You'll be up and running in minutes, not days. See more | Vuedoo is the world's first project scheduling software to feature the incredible Tufte Chart, a data-rich visualization of startling clarity. Finally, a project chart that everyone can understand. See more | Imagine scrolling and zooming painlessly with fluid intuitive motions — using our amazing Scroomer™ control. From the big picture to the finest detail, all project stakeholders can truly view all you do. See more |
| | |
| --- | --- |
| | Vuedoo's unique Instant Install™ is the fastest and easiest on the planet. |
Clear, flexible, innovative charts that everyone can understand.
Communicate to all stakeholders with customizable view options.
Display compact high-level overviews and drill down to individual details.
Resource-based Tufte Chart, which provides seamless integration of people, schedule, tasks and dependencies.
Tufte Chart "swim lane" layout clearly shows who is doing what when.
Tufte Chart also highlights the dependencies between people not just tasks.

Task-based Timeline Chart, which displays compact horizontal time sequence of tasks.
Enhanced Gantt Chart which incorporates some of the advanced features of the Tufte Chart.
Project templates to get you started, with a range of industries and processes.
Integrated in-context help.
Beautiful, intuitive interface — learn how to use in 10 minutes.
Unique Scroomer control for smooth scrolling and zooming.

Keep your eye on the big picture at all times with separate overview of the whole project.
Options to choose which data to display in the charts.
Multi-level task hierarchy with special support for project phases along the timeline.
Project milestones displayed along the timeline at the top of the charts.
Links to create scheduling dependencies between tasks.
Tiny project file size which loads instantly.
| | |
| --- | --- |
| | Share your project plans with all stakeholders, without having to buy extra licenses. And, unlike other project planning software, Vuedoo Reader provides more than just a static printout or .jpg - it provides full access to all the dynamic view and text options that the paid app has! The Reader will always be free, and has nearly all the features of Vuedoo except edit and save. |
Testimonials

"I have been operating a small consulting business for 10 years. When bidding for work, I am frequently required to prepare detailed project plans. I now use Vuedoo exclusively for this purpose and I can honestly say that I would be lost without it. It is by far the best program of its type on the market and it allows me to present project information to customers in a concise and crystal clear graphical form."

— Tony Powers, Powers & Associates (Aust.) Pty Ltd